Bridges

---
Renovation and maintenance
Davai Bridge & Tunnel A/S is a market leader within dehumidification and maintenance of cable bridges and has a great expertise and knowledge within renovation of bridges from projects in all over Europe.
An extract of our references:
New Little Belt bridge, Denmark (wrapping, dehumidification)
Skodborgsund bridge, Denmark (corrosion protection)
Oddesund bridge, Denmark (corrosion protection)
Höga Kusten bridge, Sweden (wrapping, dehumidification)
Forth Road Bridge, United Kingdom (wrapping, dehumidification)
Severn Bridge, United Kingdom (wrapping, dehumidification)
Humberbridge, United Kingdom (wrapping, dehumidification)
Älvsborg, Sweden (wrapping, dehumidification)
Great Belt bridge, Denmark (wrapping, dehumidification)
Hardanger bridge, Norway (wrapping, dehumidification)
Bosphorus bridge I, Turkey
Bosphorus bridge II, Turkey
Wind turbine service

---
Leading in service and repairs of wind turbines, onshore as well as offshore.
Davai A/S has great expertise and knowledge working with wind turbines: we perform everything from renovation to installation, both on- and offshore.
Installation and renovation
Surface treatment
Wing repairs
Mounting
Certificate welding
Frosio inspections
Crew boat / crewing
Standby vessels
References
Anholt Windfarm (DK)
Horns Rev (DK)
Borkum Rifgrund (DE)
Baltic II Wind farm (DE)
Det Nationale Testcenter for vindmøller in Østerild (DK)
Containers

---
Containersolutions sale/rent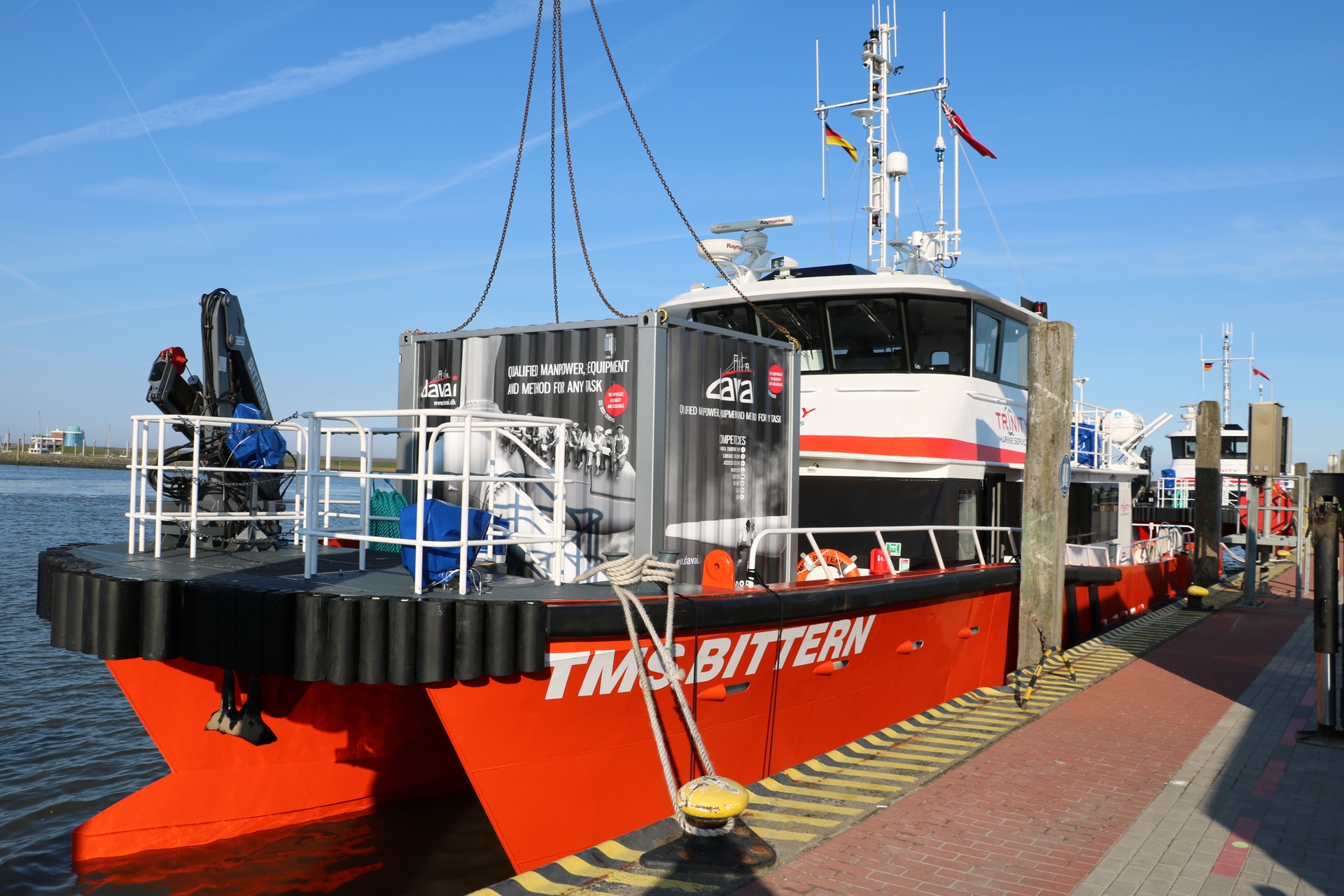 We design and produce mobile workshops, storage containers, camp kitchens, living- and sanitation containers etc.
We will build the exact container solution suiting your needs, whether you require mobile workshops, accommodation, or paint kitchens. In addition, we also produce houseboats and barge-solutions as you desire.
Storage containers
Mobile two-component paint kitchens
Ventilation containers
Design and setup of containers for accommodation
Mobile kitchens
Mobile personnel living quarters
Personnel camps
Manpower

---
Manpower solutions in surface treatment, bridge work, maritime personnel and steel inspection.
We have at our disposal, a large number of experienced, well educated and highly engaged employees, who are all certified and ready to respond, even on the shortest of notice.
With Davai you are guaranteed to always receive personnel with up-to-date training and the proper qualifications for the specific task, and with abilities to be part of any team.
Offshore (Full GWO Package)
Bridge piers, carrying cables and height-work in general
Ventilation
Steel construction
QC and QA inspectors within steel and coating
Alpinists level I, II and III
Sandblasters
Certified Mig/Mag welders
Welding coordinators
Frosio inspectors
Scaffold builders
Crane operators
Surface treatment

---
Water jetting, laser, sandblasting- and painting equipment, as well as specific packages for purchase and/or rent.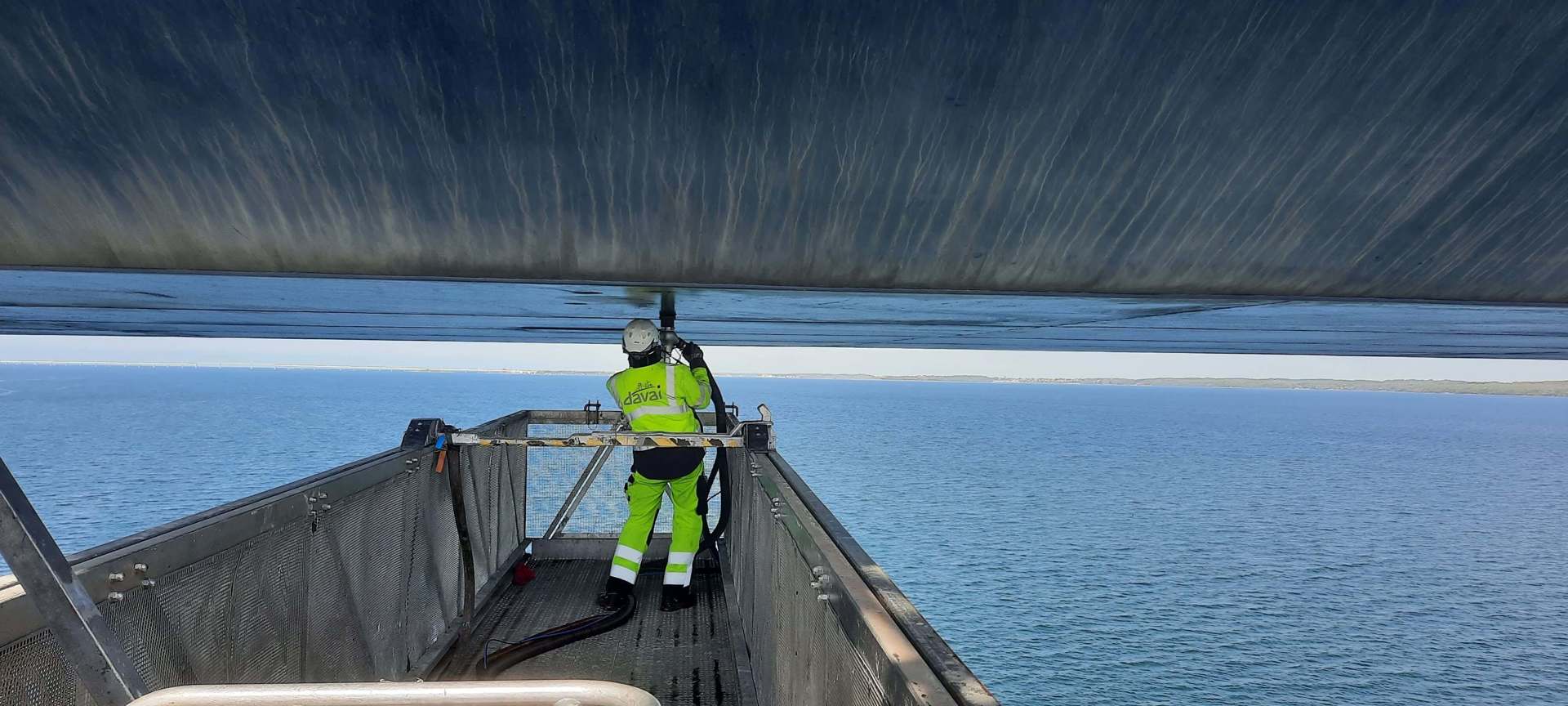 We have many years experience within industrial surface treatment, inspections and repairs of even the most complex surfaces. We use many different kinds of equipment, ranging from traditional methods like sand or sodablasting to being at the forefront of new technology with methods like laser-cleaning. 
Combined with high-level competences in offshore jobs, it makes us outstanding in consideration to e.g. repairing wings for wind turbines – both onshore and offshore and treating metal surfaces.
Offshore and onshore
Bridges
Windmill towers
Windmill heads
Windmill wings
Ships
Cranes
Chemical industry
Access equipment

---
Do you need access equipment such as lifts, cranes, sky climbers, cable gantries, telescopic loaders, or climbing equipment – we are your full-line supplier.
We offer purchase, rental and leasing deals on any kind of professional access equipment and we guide you to select the proper solution every time. Davai offers custom designs and builds, for your project and needs, available for sale or rental. 
With us you get technical support on site – 24 hours a day. Among our equipment suppliers you will find:
JLG
Dockmaster
Sky Support
Metal Yapi